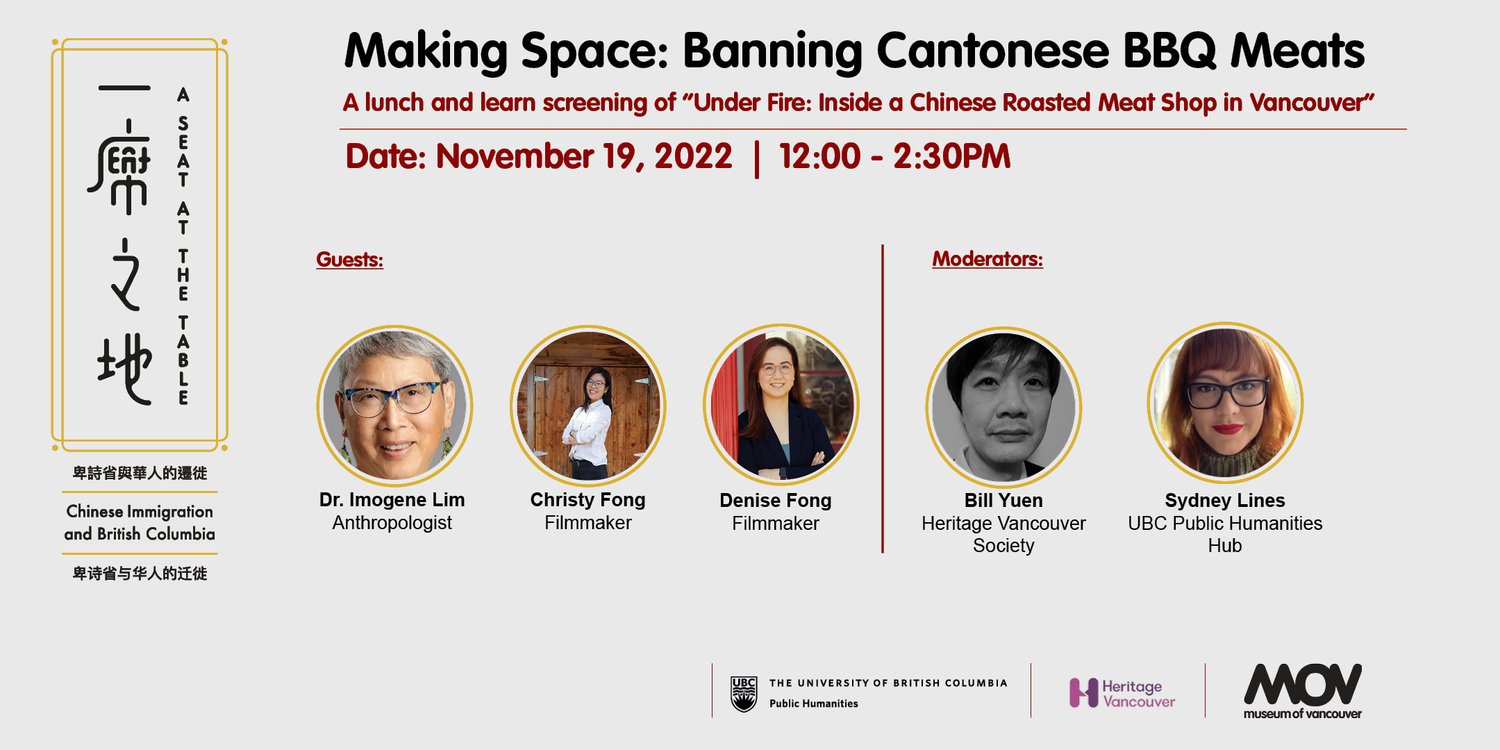 Vancouver has a reputation for having some of the best Cantonese food in North America, something many locals have come to be proud of. But did you know that in the mid-1970s, local authorities shut down many of the Cantonese BBQ meat shops in Vancouver's Chinatown? Apart from discrediting a centuries-old method of cooking, these closures also threatened the livelihood of many people in the community and access to their cultural foods. Eventually, activists in Chinatowns across Canada did prevail, and it's thanks to them we still get to enjoy traditional Cantonese BBQ in Vancouver. Learn more about this piece of meaty history in our upcoming "Making Space" event!
Inspired by the theme of food and restaurant culture of the "Seat at the Table" exhibition on Chinese migration and its role in shaping BC history, all are welcome to this lunch and learn program. Join us over a delicious BBQ meat lunch to watch the short documentary, Under Fire: Inside a Chinese Roasted Meats Shop in Vancouver and meet the filmmakers. Chinese Canadian and "Foodways" and Restaurants anthropologist, Dr. Imogene Lim of Vancouver Island University, will also be present for the discussion.  After the screening, participants will be broken into smaller discussion groups to share thoughts and experiences and to learn from each other, what it means to "make space" for food cultures as an important part of one's heritage.
Speakers
Dr. Imogene Lim, Anthropologist
Christy Fong, Filmmaker
Denise Fong, Filmmaker
Moderators
Bill Yuen, Heritage Vancouver Society
Sydney Lines, Public Humanities Hub
This event is a collaboration between Museum of Vancouver, Heritage Vancouver Society, and UBC's Public Humanities Hub.
Tickets to this event include complimentary admission to MOV for the day and a BBQ Set Lunch.
Date: Saturday, November 19, 2022
Time: 12:00 – 2:30pm
Tickets: $45 General Admission, $35 for MOV Members, $30 for Student and Senior (A service fee, processing fee and GST is also applied to ticket sales) MOV members and students, please be prepared to show your valid identification along with your ticket at the door.